Green Bay Rallies and Prepares for Recall Elections 
As energy builds towards this summer's recall elections, volunteers took some time off from knocking doors and making phone calls to protest the signing of Walker's radical budget in Green Bay this weekend. Decked out in red with hundreds of homemade signs, protestors made Scott Walker feel like he was right back in Madison. In between chants of "hey, hey, ho, ho Scott Walker's got to go" supporters of Senator Hansen and Nancy Nusbaum waded through the crowd signing up volunteer shifts and collecting pledge cards to support the candidates.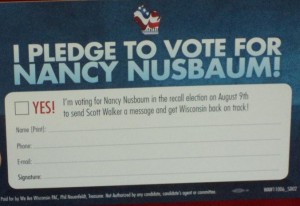 As the only city with two recall elections and the presence of a fake candidate,  recall election dates have been a source of confusion for many. A great way to make sure family and friends have the right election date for their district is with our pledge cards. Once a supporter fills one out – promising to vote for either Dave or Nancy - we will take it and send it back to them in the mail before the election reminding them to vote. Make sure to stop by our offices either in Green Bay or Kaukauna to pick up a stack of pledge cards to ensure everyone gets to the polls on election day!  
Want to get more information or get involved in the fight in District 2 or 30? Give us a call at (920) 469-1944 and make sure to like our Facebook page at We are Wisconsin – Northeast.